Before you hire a worker, you need to create a profile.
1. Posting a job
Click

(POST JOB) from the bottom menu and visit the job posting form.

Onsite Job/Online Job
Onsite Jobs are works that will be done in a place you specify, e.g. home, office. You can specify the place to work on the map or input the address or name of the place directly in the form.
Example of Onsite Jobs:
Household chores
Delivery, shopping
Office cleaning
Photo or video shooting
Temporary staff for shops or restaurants
Sports training
Car repairing
Online Jobs are works that will be done remotely, without meeting the worker.
Example of Online Jobs:
Outsourcing (Design, programming, accounting, etc.)
Lessons (Languages, computer, art, etc.)
Category
You can choose a category from the following list:
Housekeeping & Child Care
Office
Shopping & Delivery
Beauty Treatment
Temporary Worker
Home Appliances & Computers
Photography & Videography
Teaching & Tutor & Trainer
Professionals
Fortunetelling & Life Counseling
Car & Motorcycle
Workers will search for jobs filtering by categories, so you need to choose an appropriate category.
Budget
Input the budget for your job. Workers will apply for your job with their fee the is based on the budget.
Start Date / End Date
Input the date and time you want workers to work. If you need multiple dates and times, you need to post multiple jobs for each dates and time.
Job Title
Input a short description of your job. e.g. Cleaning my house, English teacher needed
Job Description
Input description of your job as detailed as possible so that appropriate workers will apply to your job.
Uploading reference files will help workers understand your job deeply. Also, if you upload an image, more workers will be interested in your job because the image will show up on the job search result.
2. Applications from workers
Workers will apply for your job if they are interested in your job.
Here's an example of how jobs look from workers: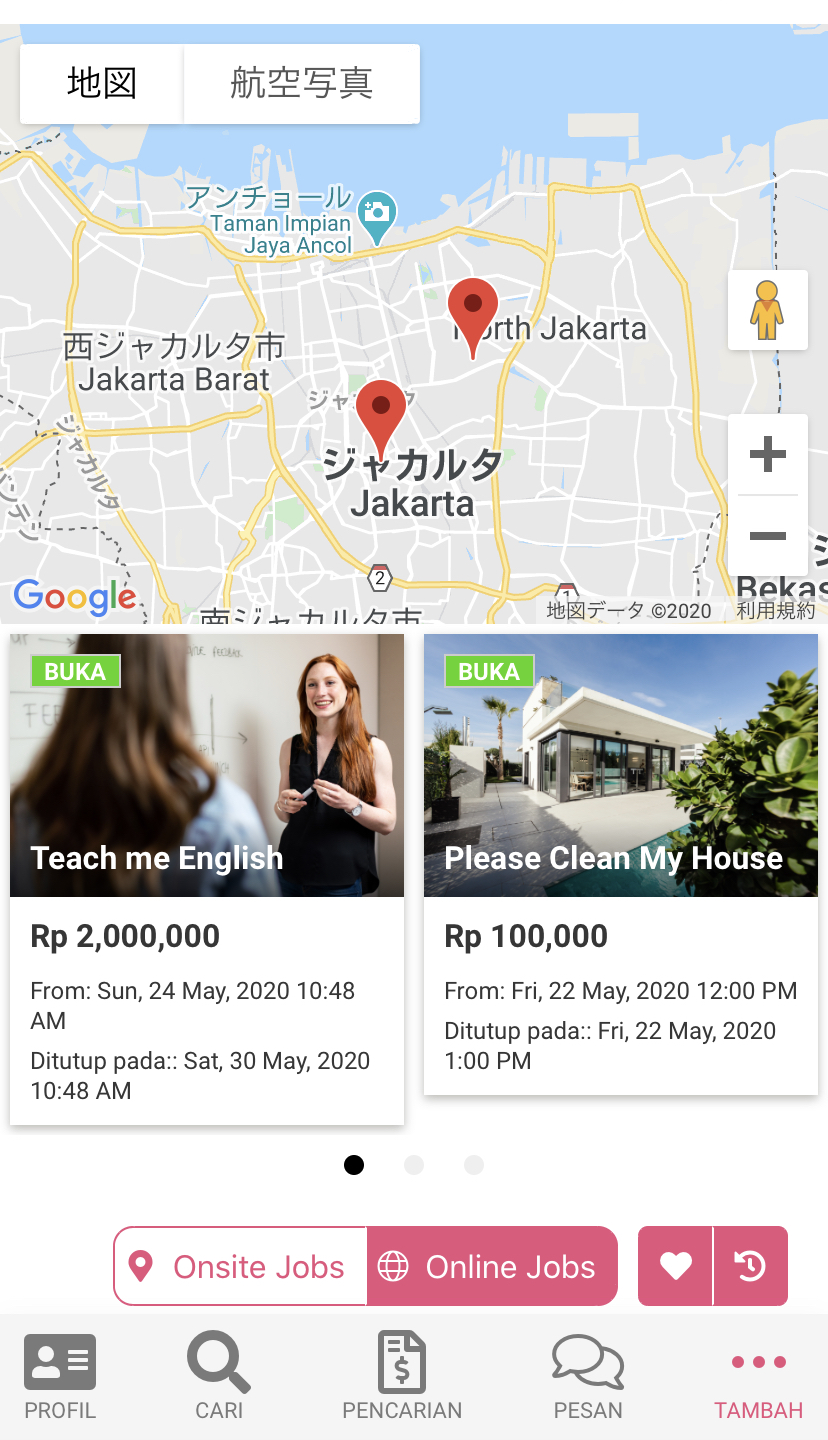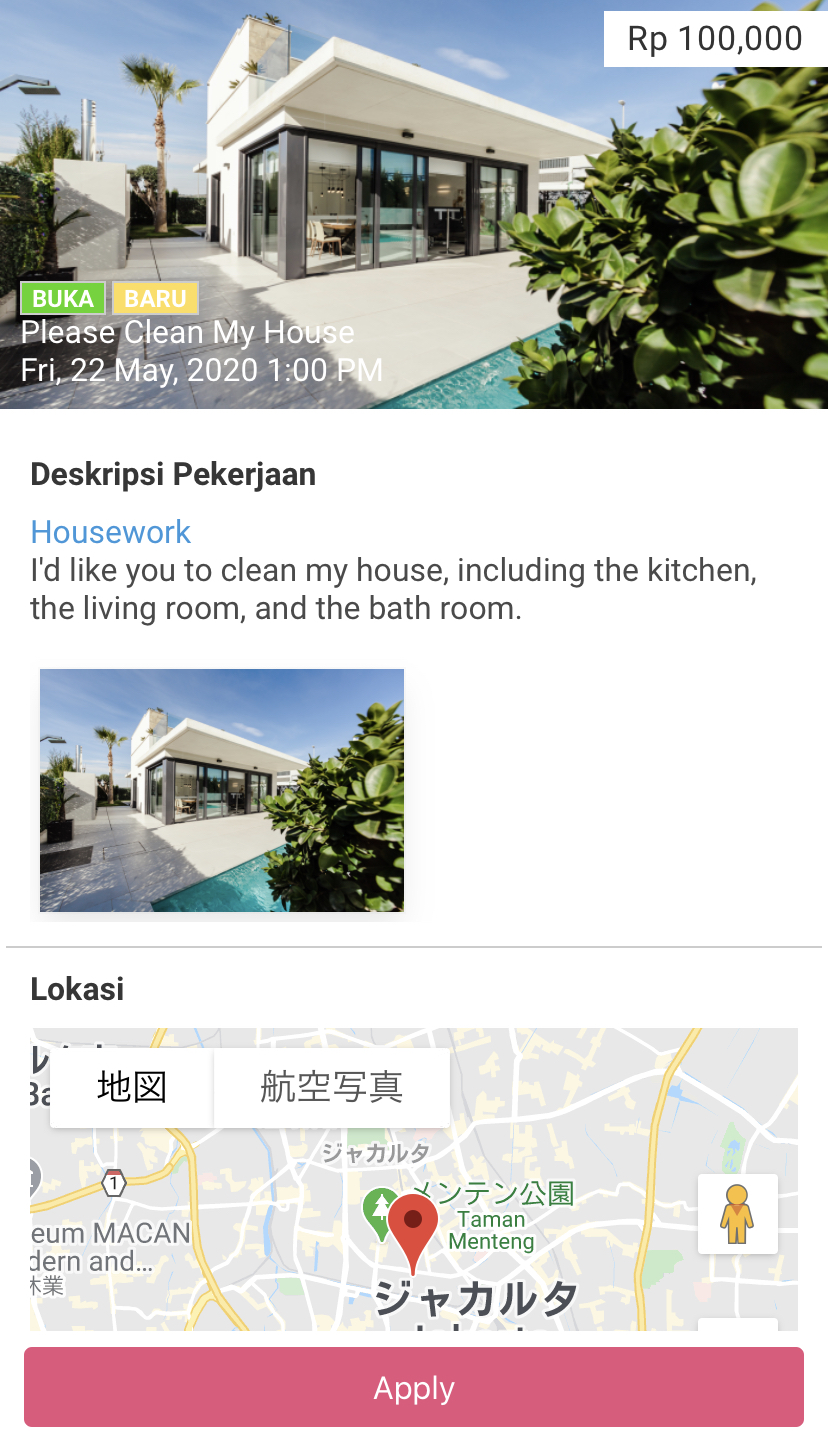 3. Interview workers
Once a worker(s) apply for your job, you can chat with them and talk about your job.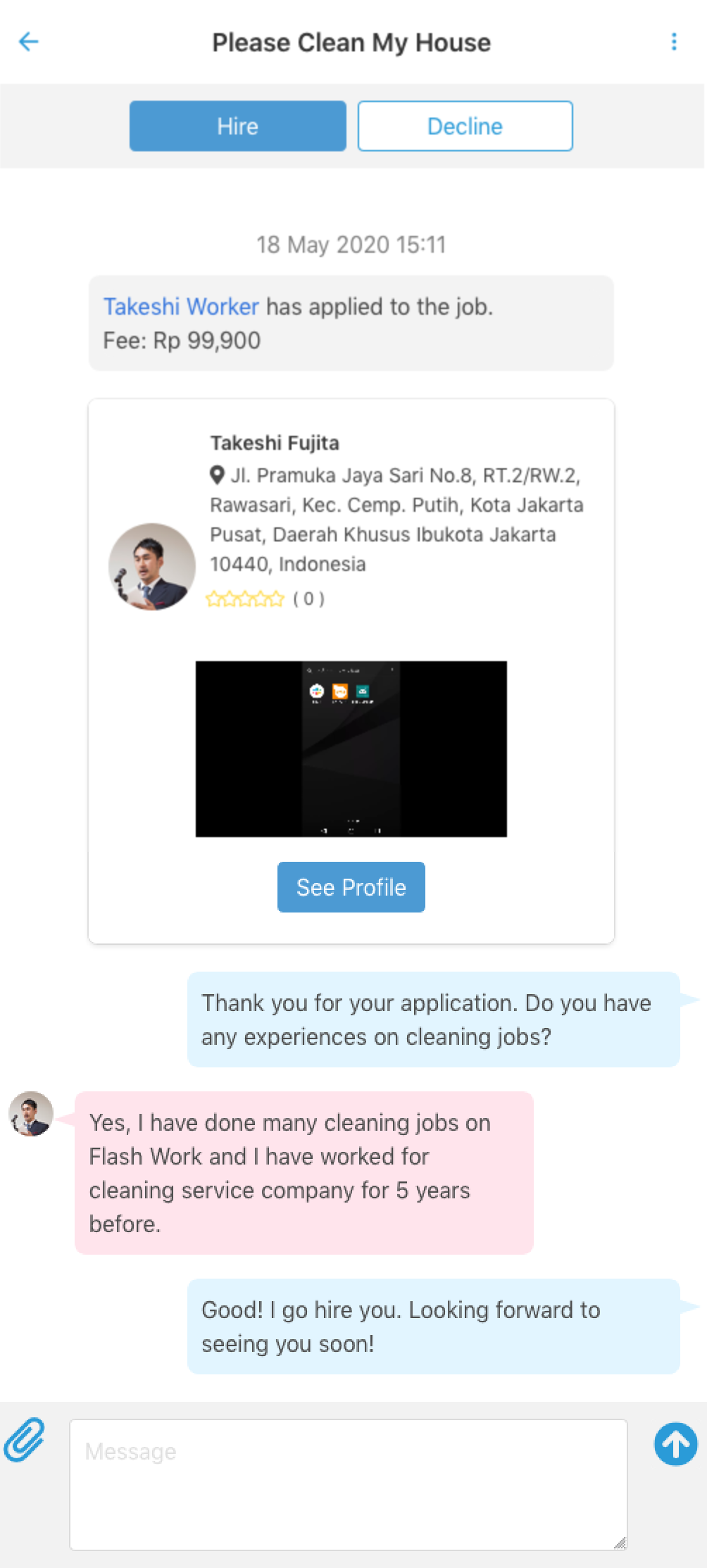 4. Hiring the worker
If you feel the worker is trustworthy, click Hire, and choose a payment method.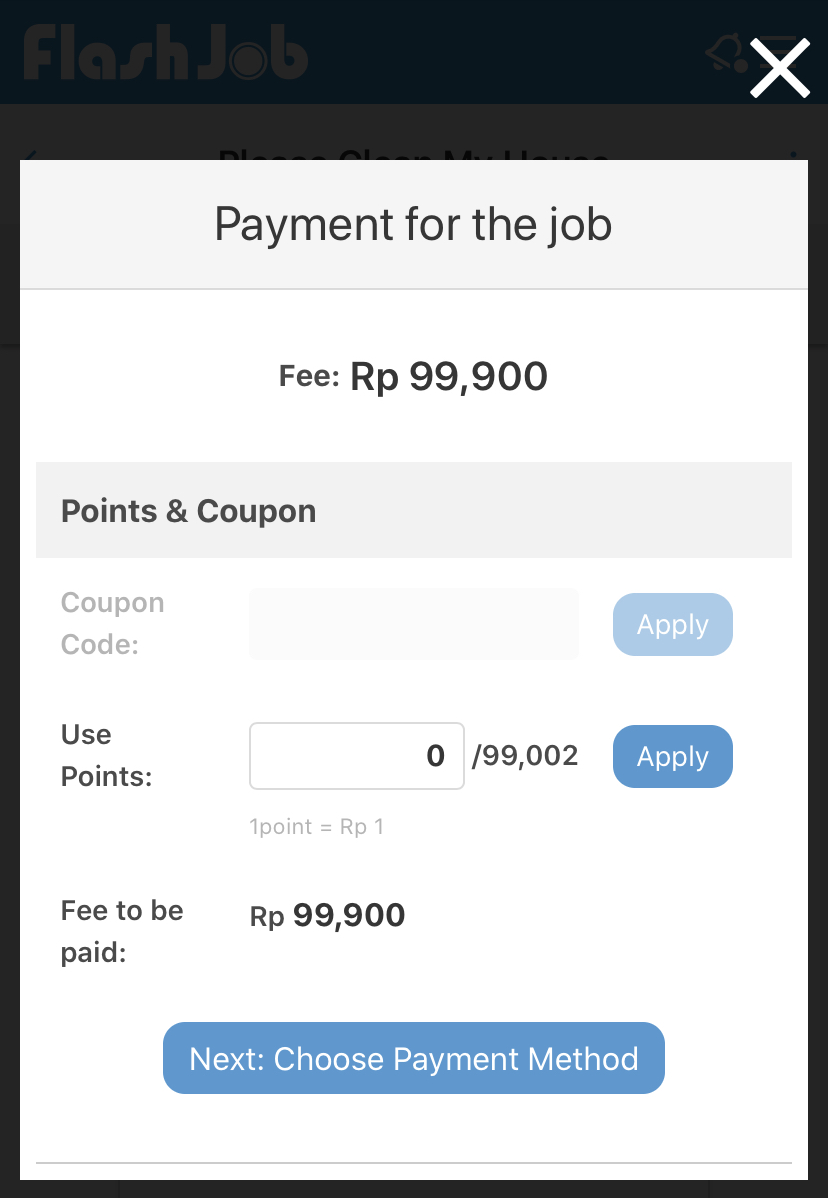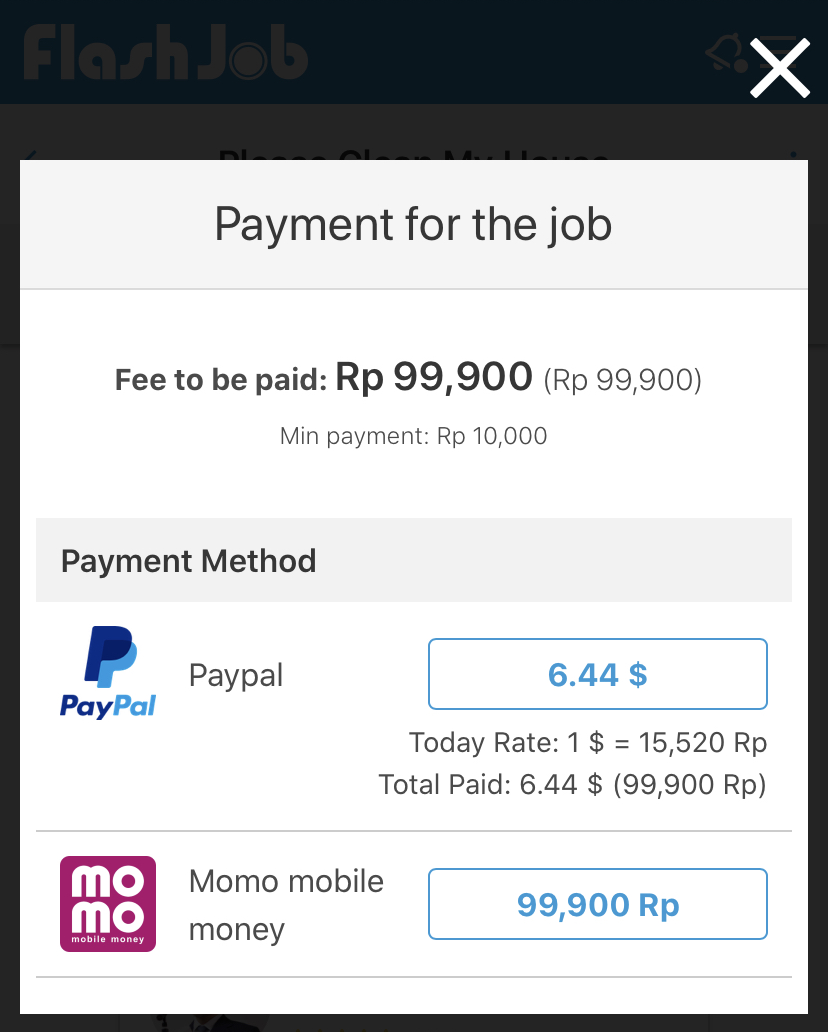 Available payment methods:
Paypal (Credit Cards)
Momo mobile money (Vietnam Only)
Bank Transfer (Indonesia Only, through Xendit)
Credit/debit cards on Visa, MasterCard, JCB and AMEX (Indonesia Only, through Xendit)
Convenience stores, including Alfamart, Alfamidi, Alfaexpress, and Dan+Dan (Indonesia Only, through Xendit)
e-Wallets, including OVO, DANA, LinkAja (Indonesia Only, through Xendit)
QR Codes with QRIS (Indonesia Only, through Xendit)
Kredivo (Indonesia Only, through Xendit)
Points on Flash Job
5. Have workers done the job
After you complete the payment, the worker will do the job. Once the worker completes the job, the worker will report completion. Then, if you satisfy his/her work, click [Approve] to complete the job and release the payment for the worker.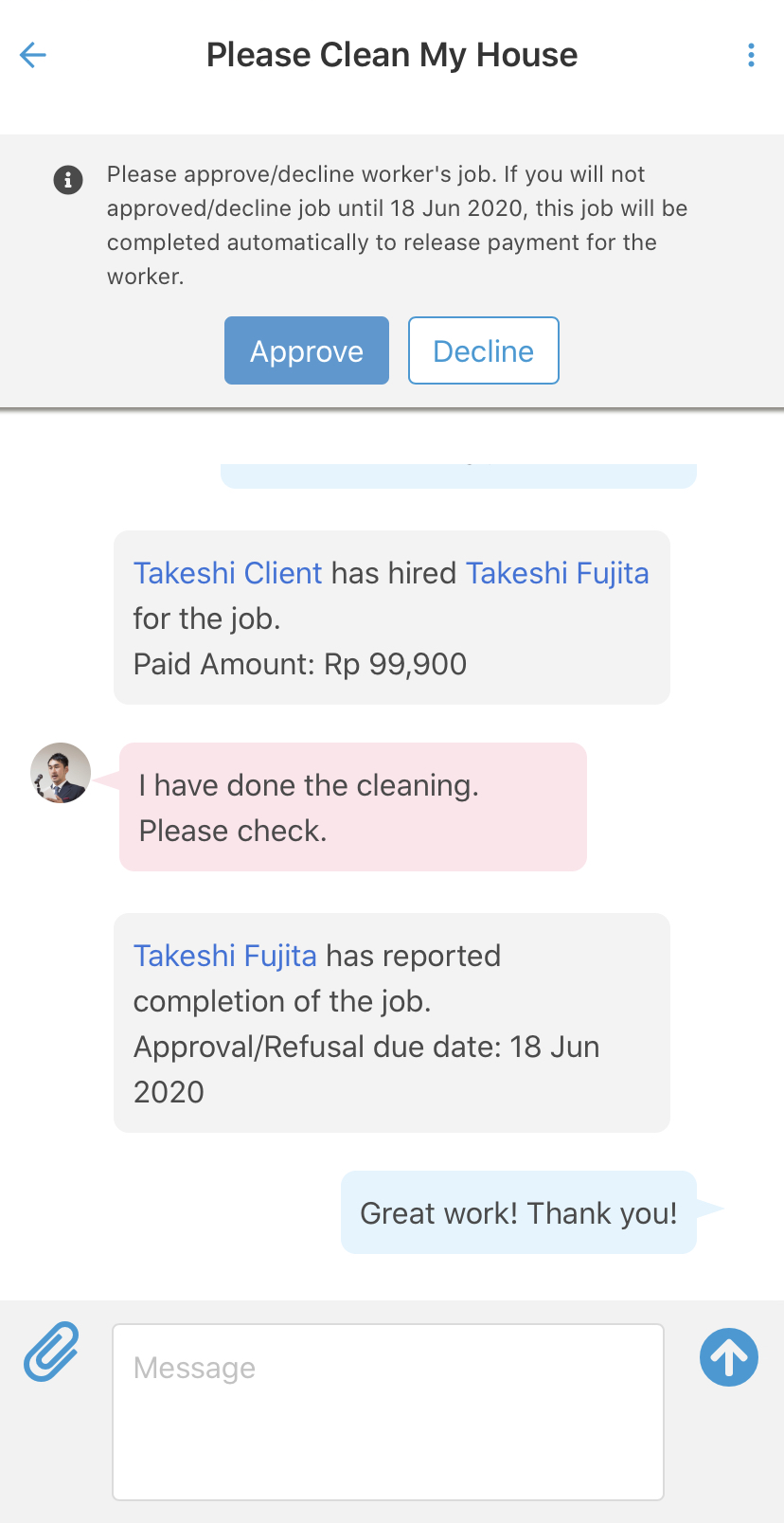 6. Reviewing the worker
After you and the worker complete the job, please review each other so that the worker can improve their work, and other clients will refer to your review for future jobs.